iO Chlorodet Farm Disinfectant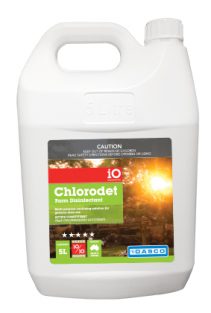 iO Chlorodet is a multi-purpose farm disinfectant and sanitizing solution for general farm use. This non-irritant and non-staining formula is effective against bacteria, yeast and fungi.
iO Chlorodet can be used on knives, instruments, cuts and wounds, hands and arms, shearing shed floors and for lamb marking.
Active Constituent: 55g/L Chlorhexidine Gluconate
Solution mixing rates for iO Chlorodet: Add 1 part of Chlorodet to 9 parts of clean water. Unused mixture may be re-used providing it is free from dust, dirt and other contamination.